| | |
| --- | --- |
| Education and Workshops 2019 | Scroll to see all classes |
Contractor Classes
Contractor Classes for 2019
Earn all 14 required CEHs by attending the University of Florida's two-day, 14-hour Summer Continuing Education program. Created by the Program for Resource Efficient Communities, these highly interactive continuing education programs provide credits for contractors as well as inspectors, engineers, interior designers, and architects.
Dates and location of classes:
(Click on link for a downloadable registration form and more information)
August 22 & 23 – St. Augustine (St. Johns County)
August 28 & 29 – Davie (Broward County)
Or, for a downloadable registration form with all available class dates listed, click here.

Instructor: Craig Miller

Provider numbers:
&nbsp CILB / BCAI / BOLA / ECLB 1129
&nbsp BOAR / ID 8074
&nbsp FBPE exp 4028.
---
Sustainable Floridians


Action Plan for Promoting Sustainability in Extension Offices

Action Plan for Promoting Sustainability Data Log
---
Conserving Biodiversity in Subdivision Development Webinar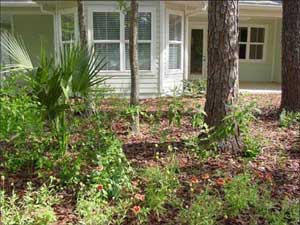 Presented by Mark Hostetler, PhD, Associate Professor, Department of Wildlife Ecology & Conservation, University of Florida, this continuing education course is a four-module webinar series developed by the Program for Resource Efficient Communities at the University of Florida. The course is devoted to designing, recognizing, restoring, and managing residential communities for biodiversity within the urban and rural matrix. The course is available in association with the Green Building Research Institute. It is relevant to county and city planners, landscape architects, architects, civil engineers, environmental consultants, developers, private landowners, and interested citizens. The course qualifies for the below continuing education credits:
Florida BOARID, provider # 0008074, course #9878189, 4 CEH's, level III, HSW.
Florida BOLA provider # 0001129, course #0009090, 4 CEH's
If applying for Florida BOARID and BOLA CEH's, one must contact Dr. Mark Hostetler (hostetm@ufl.edu) to obtain the required documentation.

Green Building Certification Institute (GBCI) 4 CE hours
American Institute of Architects AIA LU|HSW|SD 4 CE Hours
FOR MORE INFORMATION ON THE COURSE AND REGISTRATION INSTRUCTIONS PLEASE VISIT THE LINK BELOW
http://www.gbrionline.org/courses/conserving-biodiversity-subdivision-development/
---
---